NOVEMBER 2022
"Nothing really matters to me."
That line ends arguably the most unique and well-loved rock song of all time, Queen's "Bohemian Rhapsody." Interestingly, despite the popularity of the 1975 song, the term "Bohemian" hit its low in frequency of usage in the English language in 1980. Very few people, even those who know the song well, know what a "Bohemian" is. Do you?
Specific definitions vary, but that last lyric of the song does a pretty good job summing all of them up. A Bohemian is someone who lives with very little grounding in the real world. Nothing really matters to them.
Freddie Mercury was the quintessential example of a Bohemian. A man who found no grounding other than in the pleasure of wild living and the praise of man.
Over the past two and half years, we've seen the things that we thought could never change shown to be fragile. Who would have thought that the NBA and NHL would have shut down like they did? Who would have thought that international travel would slam on its brakes?
But sacred things, things that formed identity, things that grounded us, things that truly
mattered
were also halted: family gatherings, in-person school, and most importantly, the physical life of the Church in the gathering of believers around God's Word and the reception of the Lord's Supper.
As one pastor put it, "When people see that even the things that matter most aren't truly sacred, why would we expect them to take anything seriously?"
This isn't an article about how churches, schools, or families react to COVID. This is an article to acknowledge that this is the world the young Christians of our world live in today, a world that, by no fault of their own, has "bohemianized" them (if I may make up a term). If you're older you may not feel it the same way. Much of your life and identity has already been set, and as things went back to a form of normal, you could too. But for young people who are growing into who they are, a foundation is necessary. For about 2 years, the world robbed them of that. It told them that "nothing really matters."
While most young people don't have the resources to behave like Freddie Mercury, they do have cheap alternatives, one of the cheapest, most easily accessible, most addicting, and most destructive being pornography.
When "nothing really matters," who cares if I watch this? Who cares if people get hurt? Who cares if it messes with my brain chemistry? Who cares if ruins my relationships with the opposite sex?
This may be hard for some to believe, but this is the fight we engage in now. We fight not just to help those struggling with pornography, but also to help those who are trapped in porn's grip to see that
this really does matter
.
Psalm 144 feels this. It begins by acknowledging that from an earthly perspective, human life isn't that significant.
| | | |
| --- | --- | --- |
| | | LORD, what are human beings that you care for them, mere mortals that you think of them? They are like a breath; their days are like a fleeting shadow. (Psalm 144:4–4 NIV) |
If this is all we are, then nothing really matters, but then the Psalm continues...


| | | |
| --- | --- | --- |
| | | Part your heavens, LORD, and come down. (Psalm 144:5 NIV) |
And God did. God came down into the womb of the Virgin Mary to show humanity that their life really does matter, that they really do matter.


And the result? The psalmist records that when the Lord comes down...


| | | |
| --- | --- | --- |
| | | Then our sons in their youth will be like well-nurtured plants, and our daughters will be like pillars carved to adorn a palace. (Psalm 144:12 NIV) |
You matter enough to God that he would become human to save you. He wants to grow and shape you into something beautiful.
Today, pray Psalm 144 for our young people. Pray that God would continue to come to them in Word and Sacrament to grow them and shape them into people who give glory to God by their lives. If you feel a little like a Bohemian, pray that God would make you believe that this really does matter. And finally, pray for Conquerors through Christ, that we can help more people see that this fight really matters.
About the author
Caleb Schultz is the Content Editor for Conquerors through Christ. He serves as a pastor in a suburb of Toronto, Canada.
Editor's Note – CtC at MLC
On October 25-26, Pastor Brad Snyder and I visited Martin Luther College to present our resources and opportunities for involvement in CtC to the students there. It was obvious to us that we lost some momentum in the student body over 2 years of COVID, with many not being aware of our ministry. While it was sobering to know that, it motivated us to keep putting in the work to help prepare our future public ministers to serve people who struggle with pornography. We still heard encouraging things, including one student who said, "We need people to be talking about this." We plan to head back to campus in April 2023. Pray for us and for the students of MLC as we work to equip them for the work.
FEATURED BOOK REVIEW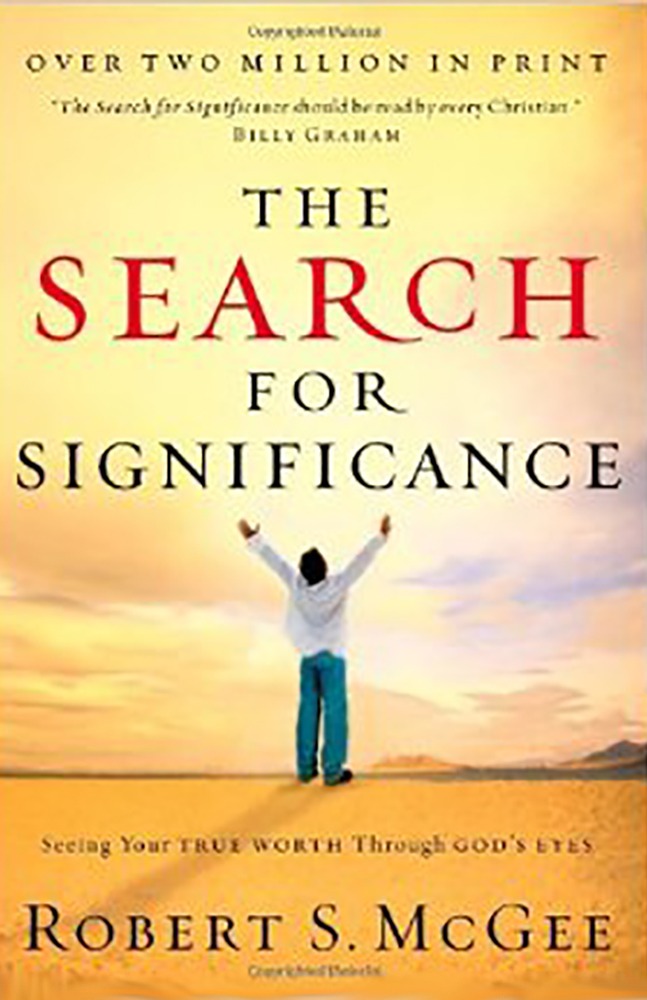 THE SEARCH FOR SIGNIFICANCE
Reviewer: Patrina T. Boehringer
When I selected this book for reading and review, I will honestly admit, I was out to debunk what I thought would be another book promoting humanistic philosophies of self-esteem. When I saw the title, red flags appeared. I assumed it was the kind of Christian self-help book what would promote the Laws of good works over the Gospel of Jesus' redemption and forgiveness. Happily, I was mistaken – feeling great relief that Mr. McGee placed the sole emphasis on Christ. "…the point is clear that Christ is the source of our security; Christ is the basis of our worth; Christ is the only one who promises and never fails." (p. 24)
FEATURED KEY RESOURCE
THE FIRST 40 DAYS
Porn use and addiction is difficult to escape. You need to
reject
Satan's lies,
resist
future temptations, and
recover
from the wreckage porn causes. Then, at some point, you can rejoice in God's design for sex. The First 40 Days is a collection of devotions designed to help you or someone you care for do just that.
We begin at the beginning, the first (or close to the first) day of porn sobriety and share the wisdom of God's Word that both empowers and guides you through the various stages of getting free from Satan's trap.
God,
You give us all good things for our enjoyment. Grant that we use your gifts to glorify you, serve our neighbor, and proclaim your death and resurrection until you come.
Amen.
Check out our social media for more gospel encouragement.

N16W23377 Stone Ridge Drive