JULY 2022
Part 2
Chasing After Love
Many people are controlled by the quest for romantic love. They think a boyfriend, a girlfriend, a marriage, or pornography will fix what's wrong with their life. Millions of people have learned the hard way that it's just not true. Romantic love is a great gift from God, but it's not the greatest gift. Confusing those two things can be disastrous.
There is an edgy, painful Old Testament account that quite clearly shows the futility of holding up romantic love as the answer to your problems. It is found in Genesis 29. Jacob moves to a new land with a hole in his heart. Jacob's father did not love him the way a father ought to, so Jacob went looking to fix his love problem with romance. He fell head over heels for a woman named Rachel. She stunned Jacob with her beauty. His hormones and his desire for romance made him a fool for love. He worked 7 years for Rachel's father, Laban, in order to earn the right to marry her.
On the day of the wedding, they celebrated a grand feast, complete with ample adult beverages. At that time, brides were veiled until the consummation of the marriage. So, perhaps with the combination of a veil, the dim night light, and a couple too many drinks, Jacob failed to recognize that Uncle Laban had pulled the old switcheroo on him – he had substituted his older daughter Leah in the wedding ceremony for the one Jacob had loved, Rachel. And in the morning light, Jacob was just now realizing that he had spent his first night with his wife, but his wife was not Rachel.
It's worth noting the Bible's comparison between the two daughters of Laban. Genesis 29:17 says that "Leah had weak eyes, but Rachel had a lovely figure and was beautiful." Scholars have debated exactly what it meant that Leah's eyes were "weak." Some have suggested that perhaps she had bad eyesight. But if that was the case, the text would likely say that Leah had weak eyes, but Rachel had very strong eyes. No, the contrast here is between Rachel's tremendous beauty and Leah's "weak eyes," which leads us to assume that the phrase "weak eyes" is describing Leah as having an unattractive appearance. What's abundantly apparent is that Rachel is a hottie and Leah is unfortunately a nottie. Jacob had fallen for Rachel and become obsessed with possessing her great beauty.
Disappointed by Love
Understandably, Jacob is furious to find out that Laban had duped him into taking the wrong daughter as his bride. He confronted Laban about it. Laban offered up a lame excuse about how it's not customary in his land to give away the younger daughter before the older daughter. So, Laban is to blame for being shady. However, Jacob shares the blame here as well for letting his hormones and obsession blind his good judgment. When he'd first asked Laban to marry Rachel, Laban never actually said "Yes." He said,
"It's better that I give her to you than to some other man. Stay here with me." (Gen 29:19)
That's it. Perhaps Jacob would have picked up on Laban's shadiness about the situation had he not been so obsessed with making a good thing (Rachel's beauty) the ultimate thing (an idol) that he thought could cure his inner hurt.
By the way, if you're wondering, men still try to do this with female beauty today as well. Old men dump their wives in favor of younger women because they think such romantic love will make them young again. Young men try to sleep with as many women as possible, simply because they're trying to use such "romance" to validate their own prowess and power. Sleazy, right? Jacob using female beauty to try to solve his problems was a little sleazy. In that sense, men today are a little sleazy as well. But the truth is that every man who thinks that he can validate himself through sex, thinks he's going to bed with Rachel, but wakes up realizing it's Leah. What I mean is this – many men think that sleeping with a hot chick sounds like a good idea at the time, but the next morning, the guilt, regret, shame, and the weight of long-term emotional damage to two lives sets in. In general, romantic love & unbridled passion, if it truly is your god, will not solve your problems, it will destroy your life.
I don't mean for this analogy to sound callous to Leah. But we have to be honest about the situation. Jacob didn't truly love her. God was sympathetic to Leah about this as well, which is why he opened her womb while he closed Rachel's. You see, the story continues as Jacob worked another seven years for Laban to receive Rachel as his wife, creating the most awkward of marital situations – two wives competing for their husband's affection. In fact, in the next chapter of Genesis, the two women trade "who gets to sleep with Jacob tonight" for some mandrakes – what kind of messed up life is this! (Interestingly, both women valued these mandrakes so much because in ancient cultures, mandrakes were viewed as both an aphrodisiac, which Leah thought might help Jacob become more attracted to her, and as a fertility boost, which Rachel thought might help her conceive, causing Jacob to appreciate her more). Both were absolutely desperate for his love.
Obviously crushed by Jacob's rejection of her in favor of her sister's beauty, Leah rejoices when she first becomes pregnant by Jacob. Look at what she says,
"It is because the LORD has seen my misery. Surely my husband will love me now."
(Gen 29:32)
You see, romantic love controlled her life as much as it had controlled Jacob's. She had a void inside of her that was caused by someone who was supposed to love her (her husband) not loving her. And now her desire for children is for all the wrong reasons. Leah becomes pregnant twice more with the hope that it will force Jacob to love her. Finally, when she conceives her fourth son, Leah gets it. Leah, who has reached rock bottom in trying to make romantic love answer her life problems, has a fourth son named Judah, and she says about him,
"This time I will praise the LORD."
(Gen 29:35). After all this time, Leah now discovered that only the LORD can truly fill the void for love inside of us. Romance cannot. And if we believe all the Hugh Grant movies and Celine Dion anthems that tell us it can, then romantic love has become an idol for us, and it will be a curse in our lives, not a blessing.
Romantic, physical, intimate love is a beautiful thing. When used properly, it is seen as the great blessing from God that it is. I'm not suggesting otherwise. But it's not the
greatest
thing.
Truly Fulfilling Love
The only one who can truly fill the inner void left by those who didn't love us as they should have is Jesus. And fascinatingly, in the godly sense, Jesus descended from heaven, and in the worldly sense, he descended from the womb of…..Leah. Yes, he was the scepter who would come through her son Judah (Isaiah 49:10). No one knew rejection of earthly love like he did. Physical romance was not even part of his life, because the bride that he'd be coming back for was his Church. And yet he suffered and died to pay for all of the times we've mistakenly thought that human love would conquer all.
For those who have lived a single and celibate life, heaven holds an intimacy for you that far surpasses any moments of pleasure from this world.
For those who have been unloved by those who should have loved you, heaven holds for you a feeling of absolute completion, satisfaction, and unity that the missed love of your father, mother, ex-husband, ex-wife, ex-boyfriend, or ex-girlfriend never could have offered you anyway.
And for all of us, in this lifetime, sometimes, by God's grace through the relationships that God blesses us with, we catch glimpses of what love really is. In heaven, we'll know it so well that we can't help but praise the LORD.
FEATURED BOOK REVIEW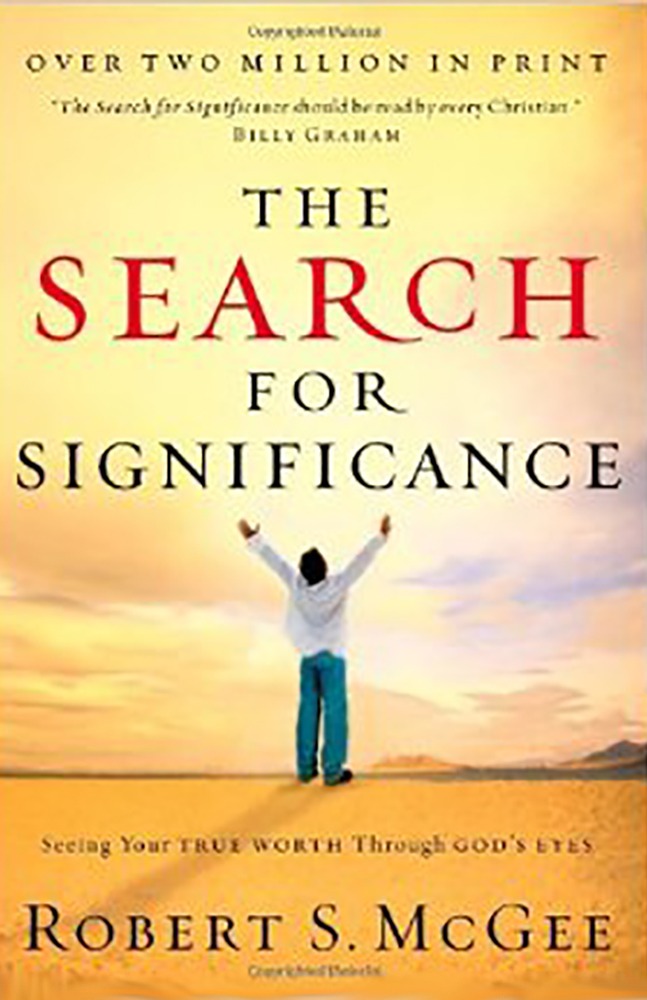 THE SEARCH FOR SIGNIFICANCE
Reviewer: Patrina T. Boehringer
When I selected this book for reading and review, I will honestly admit, I was out to debunk what I thought would be another book promoting humanistic philosophies of self-esteem. When I saw the title, red flags appeared. I assumed it was the kind of Christian self-help book what would promote the Laws of good works over the Gospel of Jesus' redemption and forgiveness. Happily, I was mistaken – feeling great relief that Mr. McGee placed the sole emphasis on Christ. "…the point is clear that Christ is the source of our security; Christ is the basis of our worth; Christ is the only one who promises and never fails." (p. 24)
FEATURED KEY RESOURCE
Since its inception, CtC has promoted a 5-step process to
reject
the temptation to use pornography. These videos walk through the steps (get real about the wreckage, get back to God's grace, get rid of porn, get accountable to others, get ready for battle), sharing Scripture and practical tips to make porn part of our past. Why these 5 steps? Because they work. Maybe not overnight, but over time. The videos can be used by those struggling with porn and shared by loved ones who want to help friends and family say "no" to temptation.
God,
I often over-pursue earthly beauty and I live among a people who try to conquer beauty sexually. I am so flawed that this is how I try to find and feel that I am loved and valuable. I am led to do very foolish things because I am seeking from people in my life the love and affection that only you can give. Lead me to see the beauty of Jesus. Lead me to see that you see me and you love me. Those who are weak, ugly, and rejected by this world are your chosen. I am weak. I am a sinner, and your gospel saves me. Jesus, who is prettier than Rachel voluntarily became weaker than Leah, so that I, who spiritually look worse than Leah would become more gorgeous than Rachel to you. Because of the ugliness of the cross, I look perfect to you. May that be the only relationship and the only love that controls or runs my life.
Amen.
Check out our social media for more gospel encouragement.

N16W23377 Stone Ridge Drive